PORT CARBON PUBLIC LIBRARY
111 PIKE ST, PORT CARBON, PA 17965

PHONE: 570-622-6115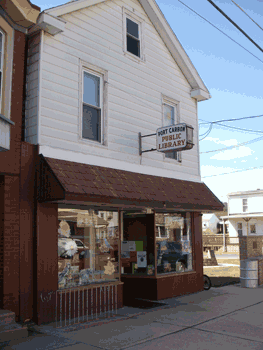 WE CARRY BEST SELLERS, MAGAZINES, BOOKS-ON-TAPE, LARGE PRINT AND MOVIES.
IF WE DON'T HAVE A BOOK YOU ARE LOOKING FOR WE CAN GET IT THROUGH THE INTERLIBRARY LOAN SERVICE.
WE ALSO OFFER PHOTOCOPYING, FAXING AND AVAILABLE TO OUR LIBRARY PATRONS, FOUR COMPUTERS WITH INTERNET ACCESS.
WE HAVE A SUMMER READING PROGRAM FOR GRADE K-6 AND A STORY TIME PROGRAM FOR PRESCHOOL FROM SEPTEMBER THROUGH MAY.
EMAIL: ptclib@wtvaccess.com